This event has passed.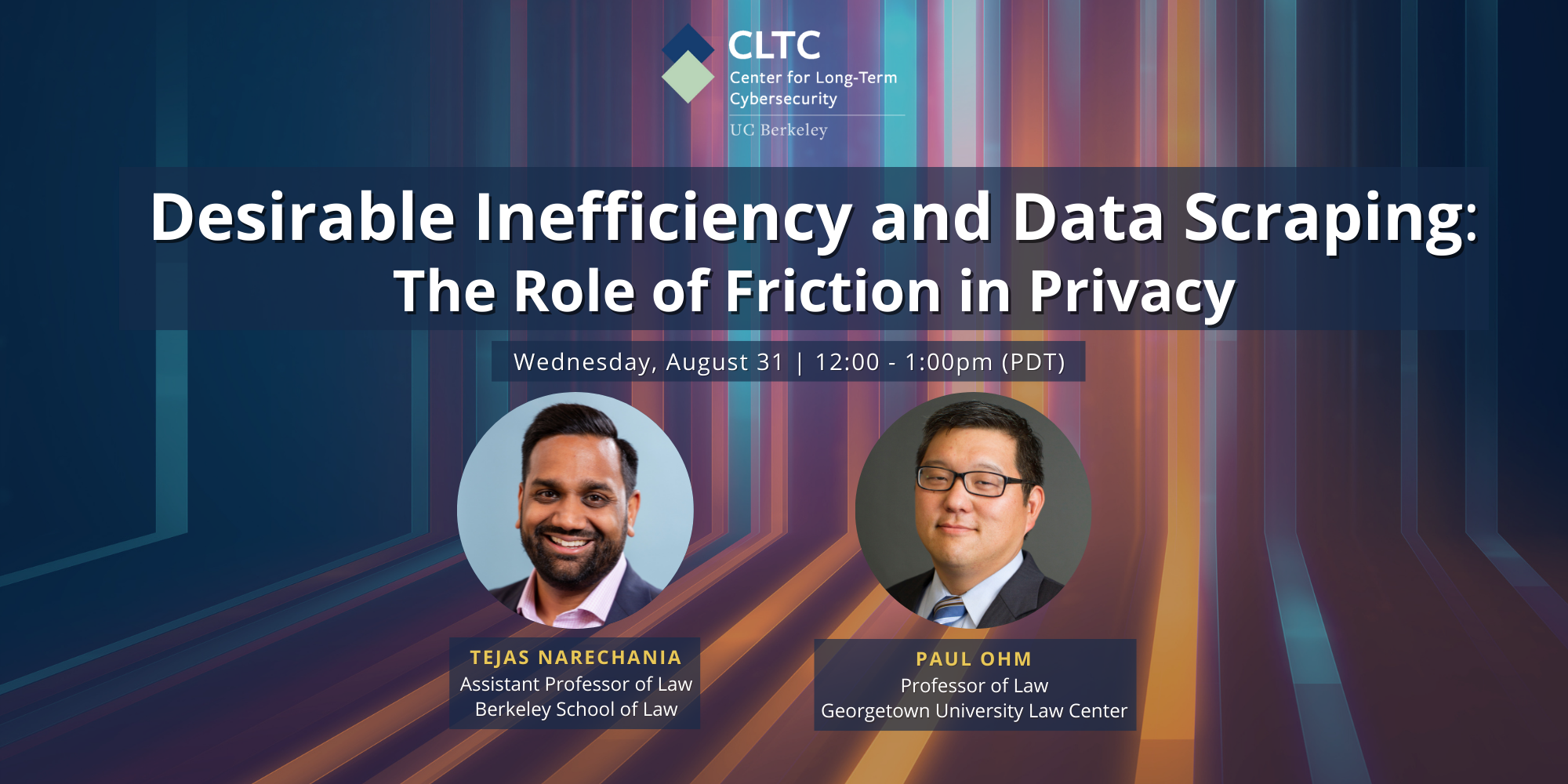 The rapid evolution of data scraping technologies is forcing us to reconsider some evergreen questions: What content is public? What is private? How do we decide? For the next event in our series on data scraping and privacy, we will be joined by Paul Ohm, Professor of Law at the Georgetown University Law Center, who will discuss an emerging and underappreciated approach to digital system design called "desirable inefficiency."
Designers have turned to desirable inefficiency when the efficient alternative fails to provide or protect some essential human value, such as fairness or trust. Desirable inefficiency is an example of a design pattern that engineers have organically and voluntarily adopted to protect and make space for human values. Ohm will join UC Berkeley's Tejas Narechania to discuss desirable inefficiency as it relates to the role of friction in privacy and the emergence of more powerful data scraping technology.
—–
Tejas Narechania is the Robert and Nanci Corson Assistant Professor of Law at the University of California, Berkeley, School of Law, where he writes about (and teaches courses on) telecommunications regulation and intellectual property, among other subjects. He is also a Faculty Co-Director of the Berkeley Center for Law & Technology. Before joining Berkeley Law, Professor Narechania clerked for Justice Stephen G. Breyer of the Supreme Court of the United States (2015–2016) and for Judge Diane P. Wood of the U.S. Court of Appeals for the Seventh Circuit (2011–2012). He has a J.D. from Columbia Law School, where he received the Ruth Bader Ginsburg Prize and was the Executive Notes Editor of the Columbia Law Review. He also has a B.S. (Electrical Engineering and Computer Science) and a B.A. (Political Science) from UC Berkeley.
Paul Ohm is a Professor of Law at the Georgetown University Law Center in Washington, D.C. In his research, service, and teaching, Professor Ohm builds bridges between computer science and law, utilizing his training and experience as a lawyer, policymaker, computer programmer, and network systems administrator. Professor Ohm serves as the inaugural Chair of the Georgetown University Tech & Society Initiative as well as a faculty director for the Institute for Technology Law and Policy and the Center on Privacy and Technology at Georgetown Law. He started his legal career as a federal prosecutor in the U.S. Department of Justice's legendary Computer Crime and Intellectual Property Section, where he worked on cutting edge issues around the fourth amendment, Computer Fraud and Abuse Act, and Electronic Communications Privacy Act.
—–
Accessibility Accommodations
If you require an accommodation for effective communication (ASL interpreting, CART captioning, alternative media formats, etc.) or information about mobility access in order to fully participate in this event, please contact Rachel Wesen at cltcevents@berkeley.edu with as much advance notice as possible and at least 7–10 days in advance of the event.
Register
Event Details
Date:

Wednesday, August 31, 2022

Time:

12:00 pm - 1:00 pm

Event Tags:
Contact: