On April 26, 2023, as part of RSA Conference, the Center for Long-Term Cybersecurity and Cyversity presented an event entitled "Cultivating Diverse Cybersecurity Leadership."
The purpose was to create an opportunity for professionals from backgrounds that have traditionally been under-represented in the cybersecurity field to discuss their personal and professional journeys, and to share tools to overcome barriers to leadership opportunities.
The event was co-sponsored by Accenture, which hosted the event in its offices in downtown San Francisco's Salesforce Tower. "We have 16,000+ professionals in security in Accenture worldwide, and that number is growing," said Chetna Sehgal, Global Capability and Delivery Lead for the Accenture Google Business Group within Accenture Cloud First. "We are proud of our diversity, and that's what today is about: our people, the diversity, and how we bring all that together."
Ann Cleaveland, Executive Director of the UC Berkeley Center for Long-Term Cybersecurity, commended the audience for recognizing the importance of the event's central topic. "We are so proud to be co-hosting this event with our partners at Cyversity," Cleaveland said. "I couldn't be more excited about today's conversation. We appreciate all of you for being here, compared to all the other invitations you had for lunchtime at RSA. It is really a testament that you all know how important this conversation is."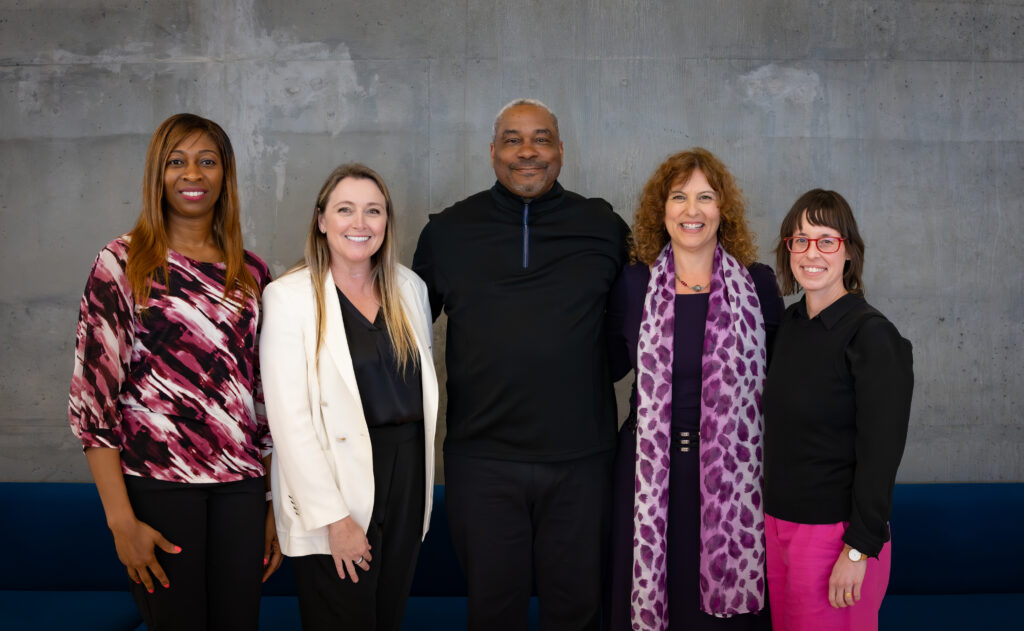 MK Palmore, Director of the Office of the CISO at Google Cloud and Vice President of Cyversity, also emphasized the importance of convening a "diverse slate of people who all are interested in tackling this issue of increasing the presence of women, people of color, veterans, and others into the field of cybersecurity. Give yourselves a round of applause, because this is what diversity looks like."
In a pre-recorded message, Melonie Parker, Chief Diversity Partner at Google, reinforced the importance of having diversity in the dynamic field of cybersecurity. "We know that the cybersecurity landscape is constantly evolving, and Google continues to understand the importance of the role that we play in protecting our billions of users," Parker said. "That's why it's so important that we have a diverse workforce of cybersecurity professionals who can bring a variety of perspectives and experiences to the table to address the constantly emerging threats. This leads to a wide range of ideas and solutions that represent the needs of our diverse user base."
Parker, who also serves as a Minority in Energy Initiative Champion for the Department of Energy, added that "when people see themselves represented in the cybersecurity industry, they're more likely to see themselves in roles within that field," and that "ensuring the development of diverse leaders is a cornerstone of any well functioning organization."
Keynote Presentation: Christy Wyatt
The keynote presentation was delivered by Christy Wyatt, President and CEO of Absolute, a provider of "self-healing, intelligent security solutions" and the only endpoint provider embedded in over 600 million devices globally. Wyatt has had a successful career and was recently recognized as CEO of the Year by Globe and Mail. She was also recognized as one of the top 50 women leaders in SAS in 2019.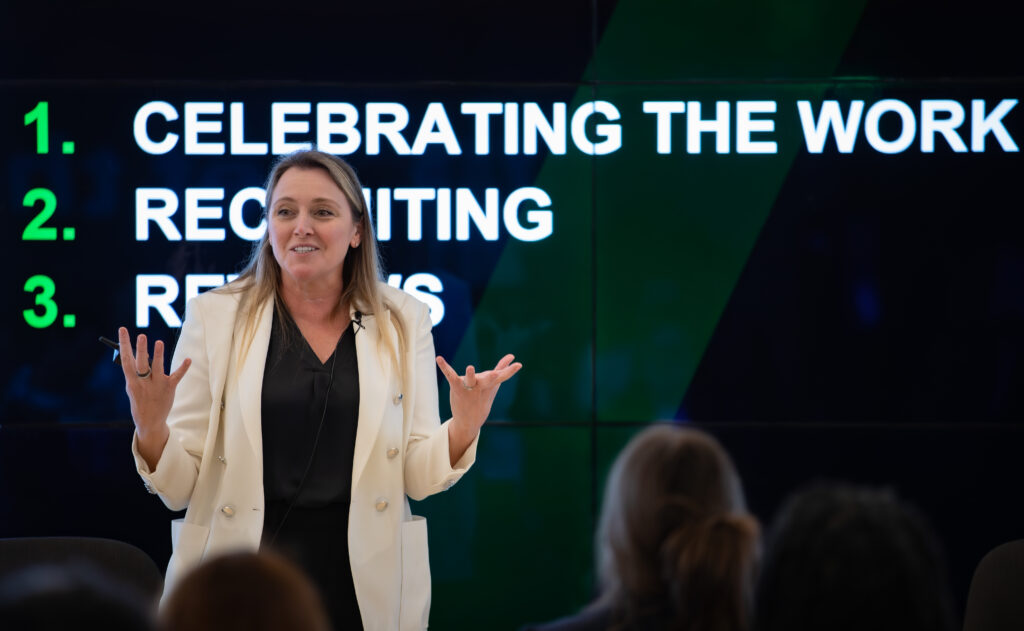 "I'm a woman in tech, and I've spent my entire career trying to not talk about the fact that I'm a woman in tech," Wyatt said. "What I am incredibly passionate about is building high-performance teams. I am a CEO, I believe CEOs are responsible for culture, and I believe that our job is drive to drive performance within the organization. And I believe deeply to my core that you have to have an inclusive, diverse team in order to drive performance."
Wyatt recounted that she was often one of a small number of women involved in technology during her education and early career, and she benefited from programs designed to elevate the number of women in the field. "It was incredibly empowering, because somebody saw me and they valued me and they gave me some support. In other cases, it identified me and isolated me, and it made me stand out, and I did not love it. And so now I'm on the other side of the fence. Now I am supposed to be championing change. I'm supposed to create an environment where people feel empowered, and we're supposed to create high-performance teams."
She says that her company's mantra is "one team, one number," meaning that everyone is working toward the same goal. "Culture is a function of what you reward," she said. "If you say something is important to you, but then you align what you celebrate in a different way, people see that. A great example would say 'we love teamwork, we are one big team,' but then in your all company meetings, you celebrate the hero who closed the big deal. You didn't celebrate the whole team that rallied together…. When you set up your reward system within the organization, it has to reflect what is most important to you."
Companies sometimes over-focus on diversity as an ends unto itself, Wyatt, rather than a means to an end. Rather than celebrate the fact that a team is diverse, she suggests, leaders should celebrate their successful accomplishments; they can acknowledge the diversity, but not outside of the context of what that led to. "Inclusion is about the how, it's not the what," she said. "We want to reward the performance. We want to reward that the business is getting faster. We want people to understand that it's a result of the investment we're making in our business by creating a more diverse organization. And that's what's driving the performance."
Fireside Chat: Deidre Diamond and Nneka Emegwa
The second part of the event featured a "fireside chat," an informal conversation between Nneka Emegwa, Security Consulting Senior Manager within Accenture's Cybersecurity practice, and Deidre Diamond, Founder and CEO of CyberSN, the largest cybersecurity talent acquisition technology and services firm in the U.S., as well as Secure Diversity, a non-profit to closing the diversity gap in cybersecurity.
Diamond recalled that she was often questioned about how she was able to raise the money to start her company, which she was able to self-fund with money she had earned through her earlier successes in technology. "People were asking me, how did I do it? And I didn't realize that they were asking me because I was a woman," she said. "That's when I started thinking, holy cow, I am rare. I represent under one percent of women who have founded their own firms…. It really made me think I need to tell everybody how this was done because it isn't because I'm some special person. I founded Secure Diversity because I realized, I have to get involved in this conversation. I've got to help my sisters."
Emegwa recalled her own experience, noting that she also was "non-traditional" in the field, as she was previously a qualified accountant. "Cybersecurity is scary," she said. "I had to do all this training and certification. It was a big turnaround in my career. But I took the bold step to do that."
Diamond noted that cybersecurity needs to be a diverse field because "attackers are not just one type of people," and so "if we want to stay ahead of them, we have to think like them. We need the diverse thoughts and thinking and innovation."
Watch the full presentation above or on YouTube.
See the photo gallery on Flickr.
Topics